Vegetarian Pho is a simple, easy-to-make dish, with a frugal taste but still very attractive and is one of the pho recipes included in Mr Pho's pho cooking program. The secret of how to cook vegetarian pho from vegetables will be extremely simple if you know the secret to cook this delicious vegetarian pho. What is that secret, let's discover it!
Although cooked from vegetables, vegetarian pho has the same delicious taste as salty pho dishes. Even if it is not the first day or the full moon day, there are still many people who choose vegetarian pho for their meals. The step-by-step instructions below will help you make an attractive bowl of vegetarian pho.
Ingredients:
300g yellow corn
200g white radish
200g carrots
30g chives
200g cassava root
200g sushi
200g onion
50g ginger
50g vegetarian beef slices
200g straw mushrooms
3 pieces of tofu
30g ky tofu with leaves
30g of plant-based tofu
Fresh noodle soup
Bean sprouts, basil, coriander
Cinnamon stick, cardamom, cloves, star anise
Seasoning: salt, seasoning, rock sugar, pepper,…
Instructions
1. Process Materials
White radish and carrot peeled, washed, cut into 3cm long pieces. Cassava roots and chayote are peeled, washed, cut into small squares. Cut the corn into bite-sized pieces. Peel the ginger, wash it, and slice it thinly.
Mushrooms washed, cut in half. Spinach cilantro, washed and finely chopped. Onions are washed, thinly sliced. Put the scallion in a bowl of vegetarian beef slices, sprinkle with a little vegetarian seasoning, ground pepper and mix well. Marinate veggie slices for about 10 minutes.
Soak the noodles in boiling water for about 30 seconds so that the noodles are soft but still retain their delicious chewiness. When the noodles are soft, take them out and rinse with cold water. Continue rinsing the noodles with hot water again. Be careful not to let the noodles get crushed.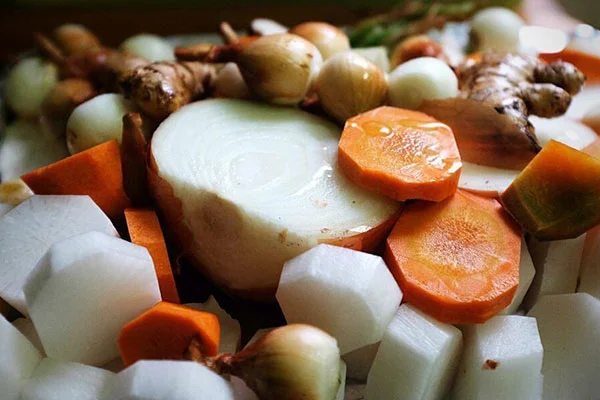 2. Material Processing
Cut the plant-based tofu into pieces about 5cm long, the leaf-type tofu into bite-sized pieces. Fry tofu in a hot pan until golden brown on both sides, then remove. Let cool and then cut into pieces about 1cm thick. Continue frying two types of ky tofu until puffy.
Stir-fry onion in a pan, add mushrooms, vegetarian slices of beef, and tofu pieces and stir-fry for about 3 minutes. Add a little vegetarian seasoning, ground pepper, stir well so that the ingredients absorb all the spices.
If you love Pho Vegetable & Tofu in Beef Broth, Please Order Here. Thank You!
3. Cook Vegetarian Pho Broth
Put white radish, cassava root, carrot, chayote, and corn in a pot of water. Stew this vegetable for about 60 minutes. Add a little salt to make the broth taste better.
To create a unique flavor for pho, add onion, fresh ginger, cinnamon stick, cardamom, cloves, and star anise into the baking pan. Bake until the ingredients are fragrant, then turn off the heat, put in a filter cloth bag, and then put in the pot of broth, cook for another 30 minutes.
Remove the soft-cooked vegetables. Next, add vegetarian sliced beef, mushroom, and assorted tofu. Add 20g of rock sugar, 1 tablespoon of vegetarian seasoning, and stir until the seasoning dissolves into the broth. Cook for about 5 more minutes, then turn off the heat.
4. Enjoy
Put rice noodles, bean sprouts in a bowl, arrange straw mushrooms, vegetarian beef slices, tofu, and vegetables on top, then pour in the broth. Garnish the vegetarian pho with scallions, bean sprouts, herbs, and coriander. Can add a little chili, satay, pepper depending on taste. Enjoy while still hot to feel the delicious taste of vegetarian pho.
With this delicious vegetarian pho recipe, you can already make your own vegetarian pho at home to treat your family and friends.